I love being in my cozy pajamas, sipping on a steaming cup of aromatic, homemade herbal tea, all while basking in the glory of my vibrant indoor herb garden.
I've spent more time than I'd care to admit nurturing green babies in my humble abode. But I've had my fair share of trials and tribulations regarding growing culinary and medicinal herbs. However, after discovering the Click and Grow indoor herb garden kit, my herbal adventures have taken a magical turn.
The kit's sleek, space-saving design fits seamlessly into the kitchen or living room. Therefore making it the perfect companion for experienced gardeners and first-time green thumbs.
The Click-and-Grow Indoor Herb Garden is one of many options to get your herb garden up and running. There are heaps of other options, too. Let's check out some of the best indoor herb gardens.
Product Reviews
Highlights
Indulging in the joy of growing herbs indoors and brewing your herbal tea is an experience surpassing any store-bought blend. The Click and Grow kit is your ticket to this delightful adventure, offering the Smart Garden 9 and a variety of exquisite plant pods.
With nine plant pods each of peppermint, lemon balm, and holy basil, you're in for a flavor-packed experience. As a delightful bonus, the Click and Grow kit also provides three plant pods: basil, mini tomato, and green lettuce.
Start by inserting the plant pods into the Smart Garden, adding water to the 4-liter tank (capable of sustaining up to a month of watering), and then plugging it in. The Smart Garden's energy-efficient LED lighting system ensures the perfect amount of light for optimal growth, while the automatic watering system takes care of hydration.
I absolutely adore the Click and Grow Herbal Tea Garden Kit companion app. This digital helper provides timed care tips and reminders for harvesting your herbs.
The benefits of the Click and Grow kit extend beyond the satisfaction of harvesting your herbs. All Click and Grow products are free from herbicides, pesticides, and other toxins. It's a pure, clean, and homegrown experience that guarantees the highest quality.
With six perennial herbs and over 75 pre-seeded plant pods, the Click and Grow system opens up possibilities for herb enthusiasts and aspiring gardeners. If you're feeling adventurous, feel free to use your own seeds and witness their transformation under the nurturing care of the Smart Garden.
Key Features
Smart Garden 9 included for effortless herb cultivation
Plant pods for peppermint, lemon balm, and holy basil
Bonus plant pods for basil, mini tomato, and green lettuce
Simple setup: insert pods, add water, and plugin
Energy-efficient LED lighting system for optimal growth
An automatic watering system ensures proper hydration
Companion app with care tips and reminders
Toxin-free and pesticide-free plant pods
Choose from 75+ pre-seeded plant pods or use your own seeds
Create a personalized herbal oasis in your home
Who's It for?
The Click and Grow Herbal Tea Garden Kit is perfect for herbal tea enthusiasts and those who appreciate caffeine-free beverages. It caters to individuals who enjoy the calming ritual of growing herbs and preparing their own herbal tea.
Home gardeners looking for a convenient and space-efficient solution to cultivate fresh indoor herbs will find it ideal. Wellness enthusiasts interested in the medicinal benefits of herbal teas can also benefit from this indoor herb garden kit.
Ultimately, the Click and Grow Herbal Tea Garden Kit offers a delightful experience of growing and brewing your herbal teas, providing homegrown herbs with authentic aroma and flavor.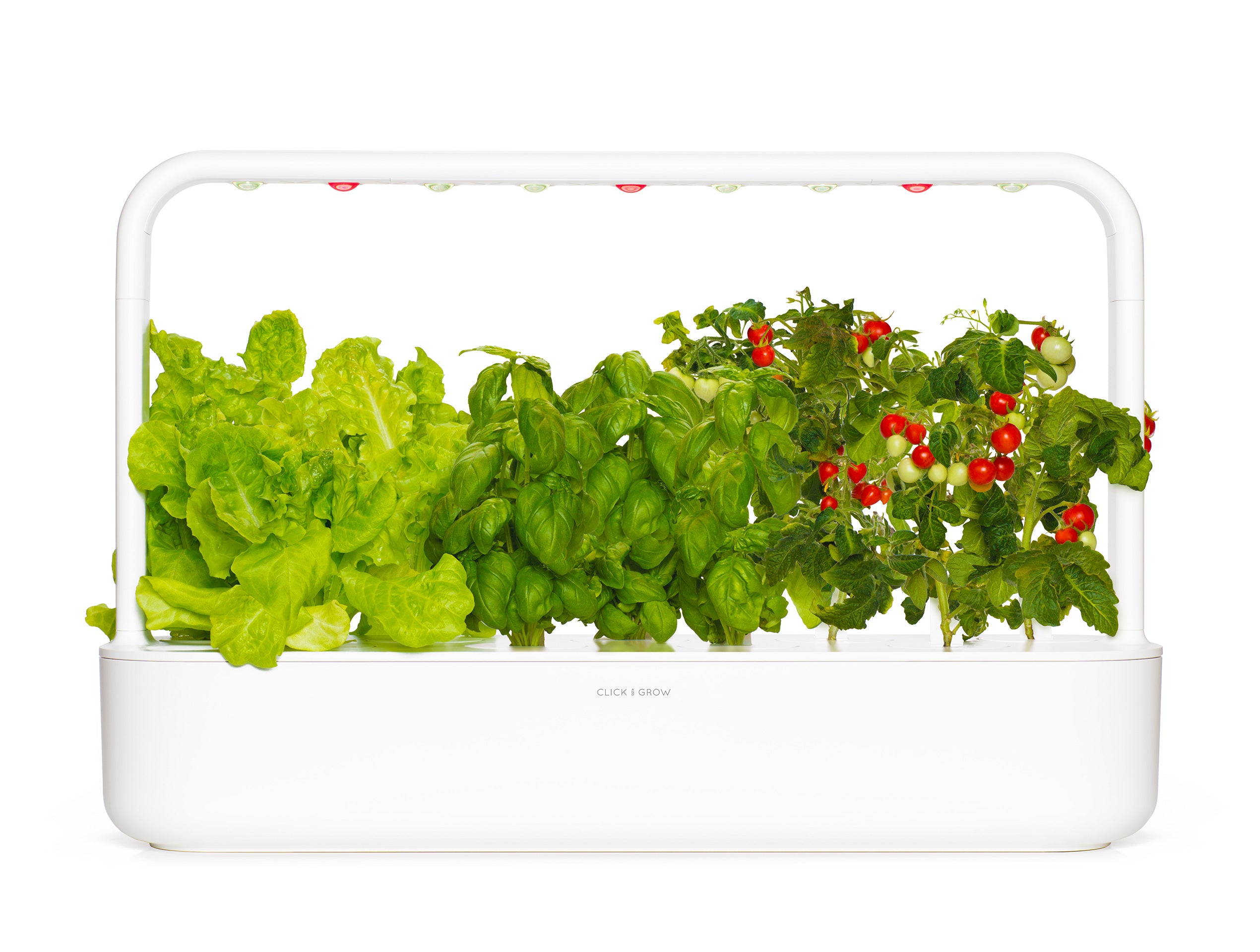 Highlights
One of the standout features of the Smart Garden Pro 9 is its app-controlled functionality. With a simple touch-control interface and the user-friendly Click & Grow app, you gain complete control over the lights and their schedule.
The Smart Garden Pro 9 empowers you to customize the lighting experience with just a few taps on your smartphone. You can give your herbs a restful period of dimmed light or ensure they receive the perfect amount of light during their growth cycle.
This indoor garden automatically controls the watering process, ensuring that your plants receive the ideal amount of hydration without concerns about overwatering or underwatering. The built-in pro-grow lights provide the perfect illumination for optimal growth and development.
Your herb plants will receive the optimal balance of nutrients and oxygen at the root level, creating an ideal environment for their growth. With this smart system, you can enjoy a bountiful harvest of fresh and flavorful herbs year-round.
With over 50 pre-seeded plant pods or the option to use your own seeds, the Smart Garden Pro 9 allows you to cultivate various indoor herbs and experiment with different flavors in your culinary creations.
To get started, insert the plant pods, fill the generous 4-liter water tank (conveniently lasts up to a month), and plug it in. The energy-efficient LED lighting system consumes only 13W of power; you can enjoy the benefits of a flourishing herb garden without worrying about excessive energy consumption.
Its sleek design allows you to create an indoor herb oasis without compromising style.
Key Features
App-controlled lights and light schedule
Automatic watering system
Pro-grow lights for optimal plant growth
The ideal balance of nutrients and oxygen at the root level
Year-round gardening with the ability to grow 100% organic herbs, fruits, salads, and flowers
Companion app for expert insights, care tips, and reminders
Choose from 50+ pre-seeded plant pods or use your own seeds
Touch-control interface for convenient light management
Energy-efficient LED lighting system consuming only 13W of power
Sleek and space-saving design to fit any home aesthetic
Who's It for?
The Smart Garden Pro 9 is for home gardeners, urban dwellers, and health-conscious individuals. Those who desire a convenient, app-controlled solution for growing organic herbs, fruits, salads, and flowers indoors.
With automatic watering, pro-grow lights, and expert guidance through the companion app, it caters to various gardening needs. All while maintaining a sleek and space-saving design.
The Smart Garden Pro 9 is an excellent option for those with limited outdoor space or living in urban areas, allowing them to experience the joy of homegrown produce. Gardening enthusiasts will appreciate its year-round gardening capabilities, allowing them to nurture plants regardless of the growing season.
Highlights
This hydroponics growing system can make plants grow a whopping 20% faster than traditional soil planting methods. How, you ask? The integrated low-noise pump aerates the water, stimulating plant growth, while the upper fan creates timed intervals of simulated outside breeze.
With a 4.5L water tank and a built-in fan, this system easily meets my indoor herbs needs. The fan spreads pollen during the flowering phase and disperses heat during germination. Plus, the independent water tank can support my indoor herbs for 1-2 weeks in the growth period. The visual window, helps me to easily monitor the water level.
It offers two growing modes that cater to different plant needs. The 22-Watt LED light automatically turns on and off, simulating the natural sunlight spectrum and promoting photosynthesis, no matter the weather outside.
The Vegetable Mode combines blue, red, far red, and white light, perfect for growing herbs, greens, and salads. When it's time for flowers and fruits, the Flower/Fruit Mode emits a mix of red, far red, and white light to give them the extra boost they need.
The iDOO Hydroponics Growing System allows me to grow 12 plants at once and adjust to their different growth stages. With an adjustable height of up to 11.02 inches, it accommodates the needs of my herbs as they mature.
The full spectrum LED grow light consumes only 20 watts of power, saving me 90% of my electricity bill.
Key Features
20% faster plant growth compared to traditional soil planting methods
Integrated low-noise pump for water aeration and plant stimulation
The upper fan simulates the outside breeze at timed intervals
4.5L water tank and a built-in fan for optimal plant support and growth
Visual window to easily monitor water level
Easy setup with all necessary factors for plant growth included
Two growing modes: Vegetable Mode and Flower/Fruit Mode
22-Watt LED light that turns on/off automatically to simulate the sunlight spectrum
Adjustable height of up to 11.02 inches to accommodate different plant growth stages
Energy-saving grow light consuming only 20 watts
Self-watering system with no mess, soil, or weather limitations
Auto control with customizable light schedules (16 hours on/8 hours off or 30 minutes on/30 minutes off)
Pump system for water circulation and increased oxygen level
Suitable for growing herbs, salad greens, tomatoes, and peppers at all growth stages
Compact design ideal for small spaces
Full spectrum wavelength for balanced and optimal plant lighting
Who's It for?
It is perfect for home gardeners with limited outdoor space or who live in apartments or urban areas.
The iDOO Hydroponics Growing System 12 Pods offer a fun and engaging experience for anyone interested in learning about hydroponics.
This system is suitable for experienced plant enthusiasts and beginners who want to explore the world of indoor gardening. It offers a low-maintenance solution, making it ideal for busy individuals. The energy-saving LED grow light consumes only 20 watts, making it eco-friendly.
Highlights
Glancing at the window on these self-watering pots, I can easily observe when and how much water is needed.
Excess water is stored at the bottom of the pot in a water reservoir, away from the plant's roots. The water is separated from the lining and only absorbed by the absorbent cloth, so my indoor herbs stay hydrated without the risk of root rot. The double-layer design makes it easy when it's time to transplant my leafy friends into a new pot..
The absorbent cloth helps the roots of the plants absorb water from the bottom of the pot and keeps the soil moist. It's a win-win situation—I get to reduce my daily watering work, and my indoor herb plants get the love and attention they deserve.
The GardenBasix Self-Watering Planter Pots come in a set of six. This means I have plenty of space to grow herbs, succulents, and other green companions. The rectangular shape of the herb pots is perfect for arranging them in a row or clustering them together for a stunning display.
Key Features
Visible water level window for easy observation of water levels
Double-layer design for storing excess water away from plant roots
Ideal planter for gardens, porches, balconies, window sills, kitchens, and homes/offices
Absorbent cloth helps roots absorb water and keeps soil moist
Reduces the frequency of daily watering
Set of 6 rectangular flower pots (11″ x 4.7″ x 5.5″ in size)
Superb design, proven quality, and professional workmanship
Who's It for?
The GardenBasix Self-Watering Planter Pots are ideal for many individuals, including busy professionals, forgetful plant owners, and those with limited gardening experience.
They are perfect for apartment dwellers, individuals with small living spaces, or anyone looking to add greenery to their homes or offices.
Whether you're a beginner or a seasoned plant enthusiast, these planter pots provide a convenient and effective solution for maintaining healthy plants with minimal effort.
With their innovative features, they cater to those seeking a hassle-free gardening experience while adding a touch of nature to their surroundings.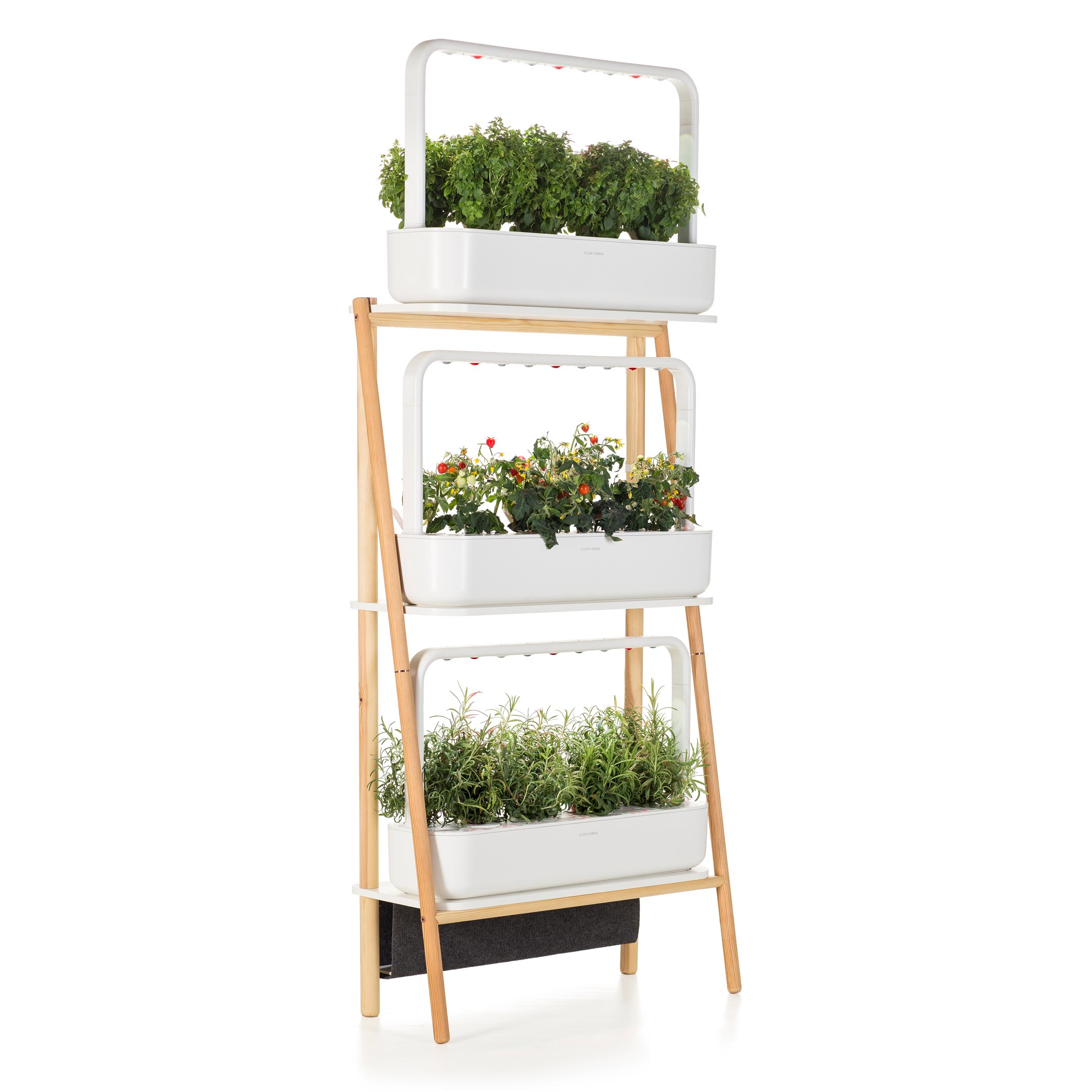 Highlights
The Smart Garden 27 by Click and Grow gives plants the perfect amount of light, water, and nutrients to thrive.
You'll receive not one, not two, but three Smart Garden 9 units to use as indoor herb gardens, along with the Click & Grow Plant Stand.
The included plant pods will make your taste buds dance with delight—9 basil pods, 9 lettuce pods, and 9 mini tomato pods. Fresh salads, aromatic pesto, and juicy tomatoes are just a few steps away.
The stand exudes elegance with a frame made from pine and shelves crafted from premium birch plywood. The decorative metal details add a touch of sophistication, while the felt bag provides a stylish storage solution for all your indoor garden accessories.
It's free-standing and can also be mounted on a wall, allowing you to design your own green masterpiece. The dimensions of this beauty are 47 x 26 x 10.3 inches, making it the perfect centerpiece for your plant kingdom.
The Smart Garden 27 is a piece of cake to set up. All the instructions are included and even provide the tools you need. The included L wrenches (hex 4 and PH2) will make you feel like a pro handyperson. Trust me, if I can assemble it, anyone can!
By purchasing the Smart Garden 27 bundle, you're not just growing your own food; you're increasing your savings. Get ready to save over $300 compared to purchasing the components separately. It's like a discount party for your wallet.
Key Features
Grow a variety of fresh herbs, fruits, and vegetables at home
Provides plants with the perfect amount of light, water, and nutrients for optimal growth
It works like a capsule coffee machine, with a variety of plant pods filled with seeds and nutrients
Includes 3 Smart Garden 9 units and 1 Click & Grow Plant Stand
9 Basil, 9 Lettuce, and 9 Mini Tomato plant pods were included.
Click & Grow Plant Stand features a pine frame and premium birch plywood shelves.
Decorative metal details and felt bag for storing indoor garden accessories
Freestanding or wall-mountable for versatile placement options
With the included instructions and tools (L wrench hex4 + PH2), assembly is simple.
Save over $300 compared to purchasing components separately
Who's It for?
The Smart Garden 27 is specifically designed for individuals who want to grow fresh herbs, fruits, and vegetables but may need more outdoor space or lack gardening experience.
It caters to urban dwellers, apartment residents, and busy professionals seeking a convenient and efficient solution for cultivating organic produce. Additionally, culinary enthusiasts and health-conscious individuals who value the quality and flavor of homegrown food will find the Smart Garden 27 an excellent investment.
It's stylish design, and space-saving features make it a great choice for those looking to incorporate greenery into their home decor.
Step-By-Step Buying Guide
Assess Your Space
Consider factors like the size of the area, whether it receives adequate sunlight, and if there are any specific requirements, such as a window sill or countertop space.
Research Different Options
There are options for self-watering planters, hydroponic systems, and even smart garden solutions. Consider factors such as ease of use, maintenance requirements, and the number of plants you can grow.
Choose the Right Herbs
Popular choices for indoor herb gardens include basil, mint, parsley, rosemary, and thyme. Consider the growth requirements of each herb, such as sunlight and water needs, to ensure compatibility with your chosen system.
Set a Budget
Prices can vary depending on the type of system and the number of plants included. Consider the long-term maintenance costs, including supplies like seeds, nutrients, and lighting, when setting your budget.
Read Reviews and Compare Products
Look for feedback on ease of use, durability, and overall customer satisfaction. This will help you make an informed decision and choose a reliable indoor herb garden system.
Purchase your Indoor Herb Garden
Consider buying from reputable retailers or directly from manufacturers to ensure product quality and customer support.
Set Up and Maintain your Herb Garden
This may involve assembling the components, planting the herbs, and ensuring they receive light, water, and nutrients. Regularly monitor and maintain the garden by watering, pruning, and harvesting as needed.
FAQ
Which herb can be grown indoors?
Herbs such as Basil, parsley, mint, chives, thyme, rosemary, and oregano are well-suited to indoor environments and can be grown successfully and properly in indoor temperatures.
What herbs can grow indoors without sunlight?
While most herbs require sunlight to thrive, certain herbs can tolerate low-light conditions. Some examples include mint, chives, and parsley. However, even these herbs will benefit from natural light or supplemental growth lights for optimal growth.
Where is best to grow herbs indoors?
The best location to grow herbs indoors is near a window with bright, indirect sunlight. Herbs also require good air circulation, so placing them in a well-ventilated area facing windows is beneficial. If sunlight is limited, you can use grow lights to provide the necessary light spectrum for herb growth.
Do indoor herbs need direct sunlight?
While herbs prefer bright, indirect sunlight, direct sunlight for extended periods can sometimes be too intense for them. It's best to provide herbs with several hours of bright, indirect sunlight each day. If direct sunlight is unavoidable, use sheer curtains or move the herbs slightly away from the sunny window.
Can herbs grow indoors all year?
Yes, herbs can grow indoors all year with proper care. Indoor environments provide enough light and a controlled climate, allowing herbs to thrive regardless of external weather conditions. You can enjoy fresh herbs throughout the year by providing the right lighting, watering, and fertilization.
Can herbs survive indoors?
Yes! Herbs can thrive indoors with the necessary light, water, and nutrients. Indoor environments can mimic the conditions required for herb growth. You can have a successful indoor herb garden with proper care and attention.
Nurturing Nature Indoors: Cultivating the Delights of an Indoor Herb Garden
The Click and Grow Herbal Tea Garden is the unrivaled champion for the best indoor herb garden. Its exceptional performance, user-friendly features, and commitment to sustainability make it the perfect choice for herb enthusiasts, tea lovers, and anyone seeking the joy and benefits of growing fresh herbs at home.
From growing various culinary and medicinal herbs to brewing the most delightful herbal teas, the Click and Grow Herbal Tea Garden has surpassed all my expectations. It has become an indispensable part of my daily routine, bringing the freshness and flavors of nature into my home all year.
Looking to Expand Your Indoor Plant Collection?
Check out our houseplant care pages, where you'll find all the latest on keeping your green babies looking their best.
We've got all the tips, from what plants to choose for an office space to the best equipment to keep your plants thriving.
At How to Houseplant, we love to hear from our fellow plant friends, so feel free to drop us a line and share your botanical stories.